WMS 7/8 BASKETBALL
Girls @ Ark City, Boys Host
Monday, Dec. 11, 2017
BOYS (HERE)

8A ACMS 27 WMS 47 (win) (2-2) (1-2)
Nathan Hilt 17, RJ Clift 13, Jay Ybarra 8, Korbin Jones 5, Blake McCreary 2, Hagen Wright 2

8B ACMS 26 WMS 18 (loss) (0-4) (0-3)
Carson Rademacher 7, Dominic Ybarra 5, Justin Norris 2, Logan Swingle 2, Dietrek Gill 2

GIRLS (THERE)

8A WMS 45 ACMS 7 (win) (4-0) (3-0)
Ali Zeka 13 pts, 8 rebs, 4 asst, 6 steals
Airalyn Frame 19 pts, 4 rebs, 3 blocks, 8 steals
Riley Westmoreland 4 pts, 3 rebs, 1 steal 
Grace Westmoreland 2 pts, 4 rebs
Nicole Peninger 3 pts, 5 rebs, 1 asst, 1 block
Sadie Glover 2 pts, 1 reb, 2 asst, 1 block, 2 steal
8B WMS 36 ACMS 21 (win) (3-1) (2-1) 
Melissa Black 7 pts, Zoie Abasolo 6 pts, Abby Mraz 4 pts, Averie Burns 6 pts, Sadie Glover 13 pts
*********************
WMS 7/8 BASKETBALL
Girls @ Mulvane, Boys Host
Thursday, Dec. 7, 2017
BOYS (HERE)

8A MMS 38 WMS 26 (loss) (1-2) (0-2)
Nathan Hilt 11, Jay Ybarra 7, RJ Clift 4, Korbin Jones 2, Blake McCreary 2

8B MMS 29 WMS 13 (loss) (0-3) (0-2)
Justin Norris 3, Trey Greenlee 3, Trevor Clark 2, Patrick Soto 2, Kaiden Hernandez 2, Trent Johnson 1

GIRLS (THERE)

8A WMS 32 MMS 18  (win) (3-0) (2-0)
Kaitlyn Hain 2 pts, Nikki Peninger 4 pts, Ali Zeka 8 pts, Airalyn Frame 16 pts, Zoie Abasolo 2 pts
8B WMS 10 MMS 12 (loss) (2-1) (1-1) 
Stellar Young 4 pts, Zoie Abasolo 2 pts, Abby Mraz 1 pt, Averie Burns 3 pts
***********************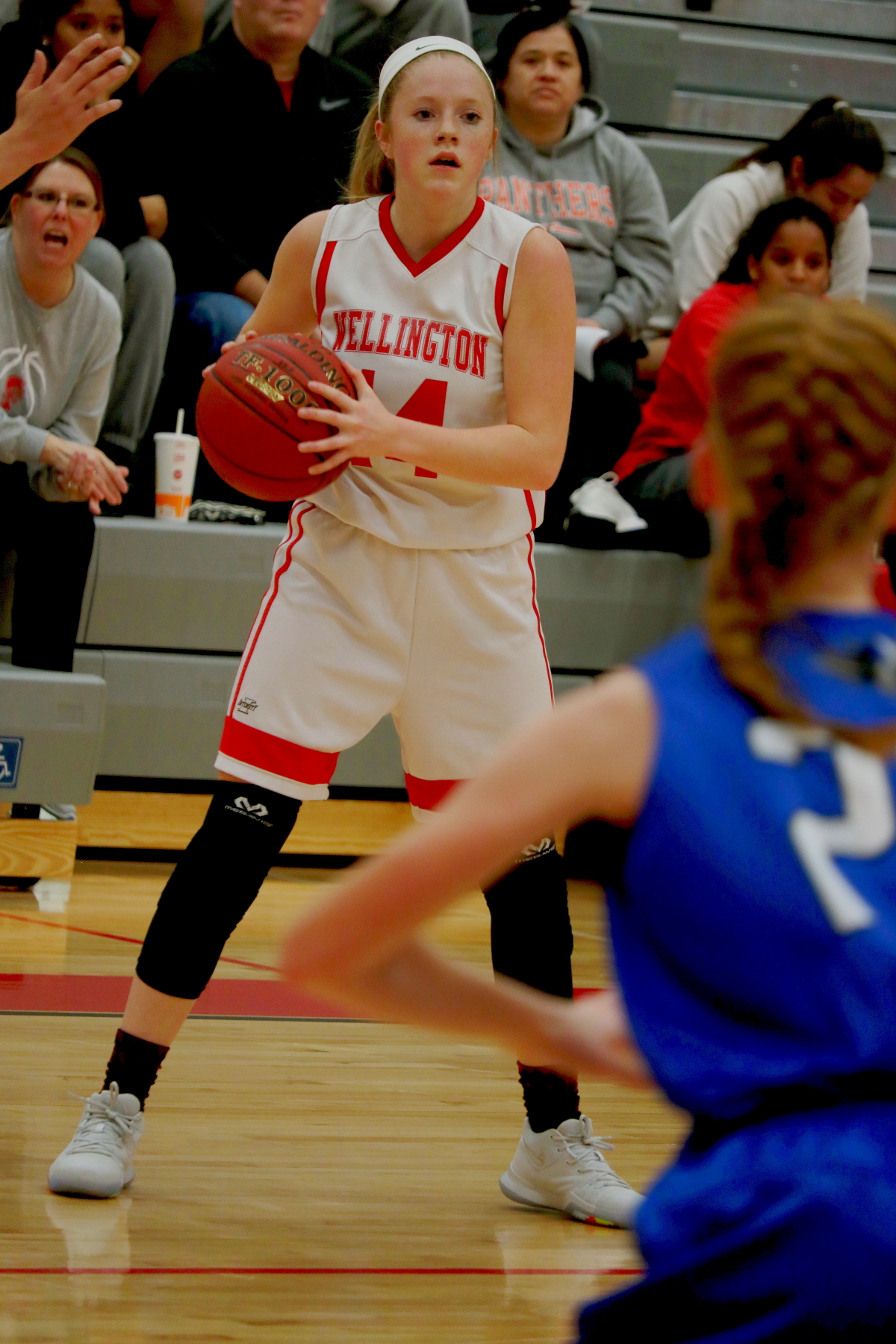 GIRLS (HOME)
8A (2-0) (1-0)
WINF 12 WELL 30
Ali Zeka 19 pts, 5 rebs Airalyn Frame 8 pts, 9 rebs Grace Westmoreland 1 pt, 2 asst Nikki Peninger 2 pts, 5 rebs
8B (2-0) (1-0)
WINF 8 WELL 27
BOYS (THERE)
8A (1-1) (0-1)
WELL 27 WINF 48
Nathan Hilt 10, Jay Ybarra 9, Korbin Jones 7, Blake McCreary 1
8B (0-2) (0-1)
WELL 14 WINF 43
Carson Rademacher 6, Deitrek Gill 4, Dominic Ybarra 2, Braeden Ybarra 2
**********************


GIRLS (THERE)
8B (1-0)
WMS 20 HWMS 15
Kaitlyn Hain 2 pts Sadie Glover 8 Zoie Abasolo 2 Averie Burns 4 Abigail Mraz 4
8A (1-0)
WMS 33 HWMS 22
Riley Westmoreland 2 pts, 2 rebs, 1 steal Kaitlyn Hain 1 reb Nikki Peninger 6 rebs, 3 asst, 1 steal Ali Zeka 17 pts, 5 rebs, 2 asst, 2 steals Sadie Glover 5 pts, 5 rebs, Airalyn Frame 9 pts, 7 rebs, 1 asst, 4 blocks, 1 steal Grace Westmoreland 3 rebs, 1 asst, 1 block, 1 steal
BOYS (HOME)
8B (0-1)
HWMS 36 WMS 21
Dominic Ybarra 8, Dietrek Gill 4, Carson Rademacher 3, Braeden Ybarra 2, Justin Norris 2, Trevor Clark 2

8A (1-0)
HWMS 27 WMS 30
Jay Ybarra 11, Nathan Hilt 11, Korbin Jones 5, Hagen Wright 2, RJ Clift 1
Action will continue on Monday vs Winfield - the GIRLS will host, the BOYS will head east to VIKING LAND! GOOD LUCK and GOOD START!!
BOYS ACTION PICS vs HAYSVILLE WEST 113017

*************************

8TH GRADE PIONEER LEAGUE CHAMPIONS 2017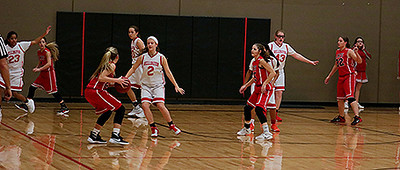 8TH GRADE LADY KNIGHTS
AWESOMENESS MAXIMUS!
LADY KNIGHT CHAMPIONSHIP ACTION PICS vs EL DORADO
OVER 400 PICS!
PIONEER LEAGUE TOURNAMENT 020417
BOYS
(7TH) WMS 34 ARK CITY 30
(8TH) WMS 37 CLEARWATER 41
(7TH) WMS 34 MULVANE 44
Both BOYS TEAMS seasons have ended but both ended strong!
 
KNIGHTS vs MULVANE 010917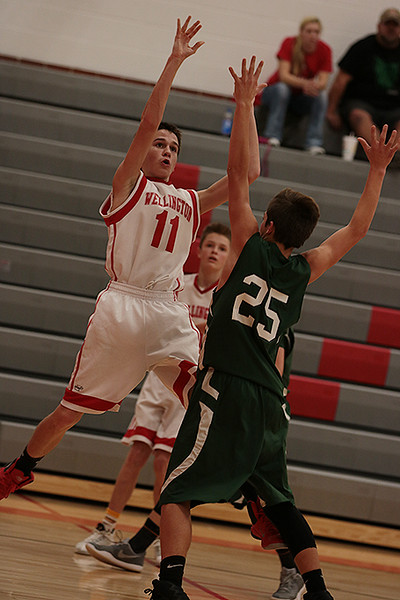 8A Knight Toby Henning puts up a shot in what would turn out to be a heart breaker...in OT, the Knights lost 39-42.
WAY TO BATTLE KNIGHTS!!
7A BOYS
MMS 32 WMS 19
Korbin Jones 6, Justin Norris 4, Rylan Biles 4, Deitrek Gill 2, Nathan Hilt 2, RJ Clift 1
7B BOYS
MMS 37 WMS 9
Justin Norris 4, Carson Rademacher 3, Dominic Ybarra 2
8A BOYS
MMS 42 WMS 39 (OT)
Berkeley Wright 14, Tanner Meyer 11, Michael Hoolihan 6, Trenton Bannister 4, Toby Henning 2, Kade Adams 2
8B BOYS
MMS 26 WMS 25
Trenton Banister 9, Chilson Ybarra 6, Tanner Meyer 4, Trace Witham 3, Rayce Koerner 2, Zac Saffell 1
BOYS (Overall Records thru Jan. 9th)
8A: (1-7), 8B: (2-6), 7A: (6-2), 7B: (3-4)
KNIGHT ACTION PICS vs MULVANE 010917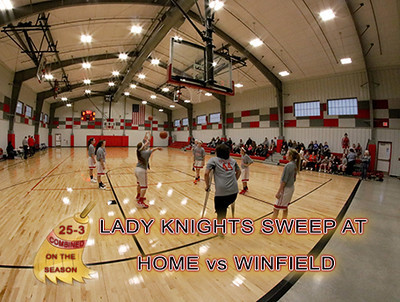 LADY KNIGHTS - HERE
7A GIRLS: 
Winfield 11 Wellington 43
Airalyn Frame: 27 pts. 4 Rebounds. 7 Steals
Ali Zeka: 11 pts. 13 Rebounds. 4 Steals
Riley Westmoreland: 2 pts. 3 rebounds. 2 steals
Taylor Sears: 2 pts. 1 rebound
Sadie Glover: 1 pt. 2 rebounds
Nikki Peninger: 4 rebounds
Kaitlyn Hain: 3 rebounds
7B GIRLS: 
Winfield 22 Wellington 29
Tearlyn Stoddard 5 pts
Alexis Hearlson 2 pts
Melissa Black 6 pts
Zoie Abasolo 12 pts
Abby Mraz 4 pts
8A GIRLS:
Winfield 19 Wellington 44
Lexi Clift 9 pts, 2 reb, 2 steals, 2 asst
Rylee Rusk 15 pts, 5 reb, 2 steals, 5 asst
Myriland French 5 pts, 3 reb, 2 steals, 1 asst
Mykiland French 9 pts, 4 reb, 1 steal 2 asst
Allison Buresh 4 pts, 4 reb, 1 steal 2 asst
Katrina Dvorak 2 pts, 1 reb
8B GIRLS:
Winfield 13 Wellington 25
Kadin Brown 7
Katrina Dvorak 7
Lynna Herring 4
Kari Dvorak 3
Kady Arebalo 2
Alexis Patee 2
GIRLS (Overall Records thru Jan. 5th)
8A: (7-0), 8B: (7-0), 7A: (7-0), 7B: (4-3)
LADY KNIGHT ACTION PICS vs WINFIELD (7A * 8B * 8A * 7B) 010517
 

LADY KNIGHTS vs EL DORADO 112916
7/8 GIRLS HERE
7A GIRLS: WMS 38 EMS 27 (W)
Ali Zeka 20, Airalyn Frame 16, Grace Westmoreland 1
OTHER STATS: Ali Zeka had
5 rebounds/2 steals, Airalyn Frame had 8 rebounds/4 steals,
Grace Westmoreland had 10 rebounds/1 steal and
Nikki Peninger had 2 steals
7B GIRLS: WMS 12 EMS 32 (L)
Josey Wolf 4, TearLynn Stoddard 2, Olivia Speagle 2
Melissa Black 2, Sierra Davis 2
8A GIRLS: WMS 53 EMS 27 (W)
Rylee Rusk 14, Mykiland French 13, Myriland French 11,
Katrina Dvorak 4, Kadin Brown 3, Alexis Patee 3,
Allison Buresh 3, Lexi Clift 2
OTHER STATS: The 8A Lady Knights hit "7" 3's!!
8B GIRLS: WMS 33 EMS 17 (W)
Kadin Brown 10, Alexis Patee 7, Katrina Dvorak 6,
Trinity Mason 4, Kari Dvorak 4, Kaydland Arebalo 2
WMS GIRLS BASKETBALL vs EL DORADO PICS 11.29.16