2017-2018
WMS/WHS BAND CONCERT
@ WHS
TUESDAY, DEC. 19, 2017
The WMS/WHS Bands held their Winter Program Tuesday evening at Wellington High School. The production was divided into 4 groups, 6th grade, then 7th, then 8th grade bands performed, followed by the High School band. All were under the direction of instructor Ben Olson. 

The MENU of songs were as follows:

6th Grade
Mozart Medley, Jingle Bells, Jolly Ole Saint Nic and Upon The House Top

7th Grade
Celtic Christmas and Jingle Bell Rock
8th Grade
Silver Bells, Colors of the Wind and Santa Rocks the House

High School
Sleigh Ride, Amazing Grace and Ukrainian Bell Carol
************************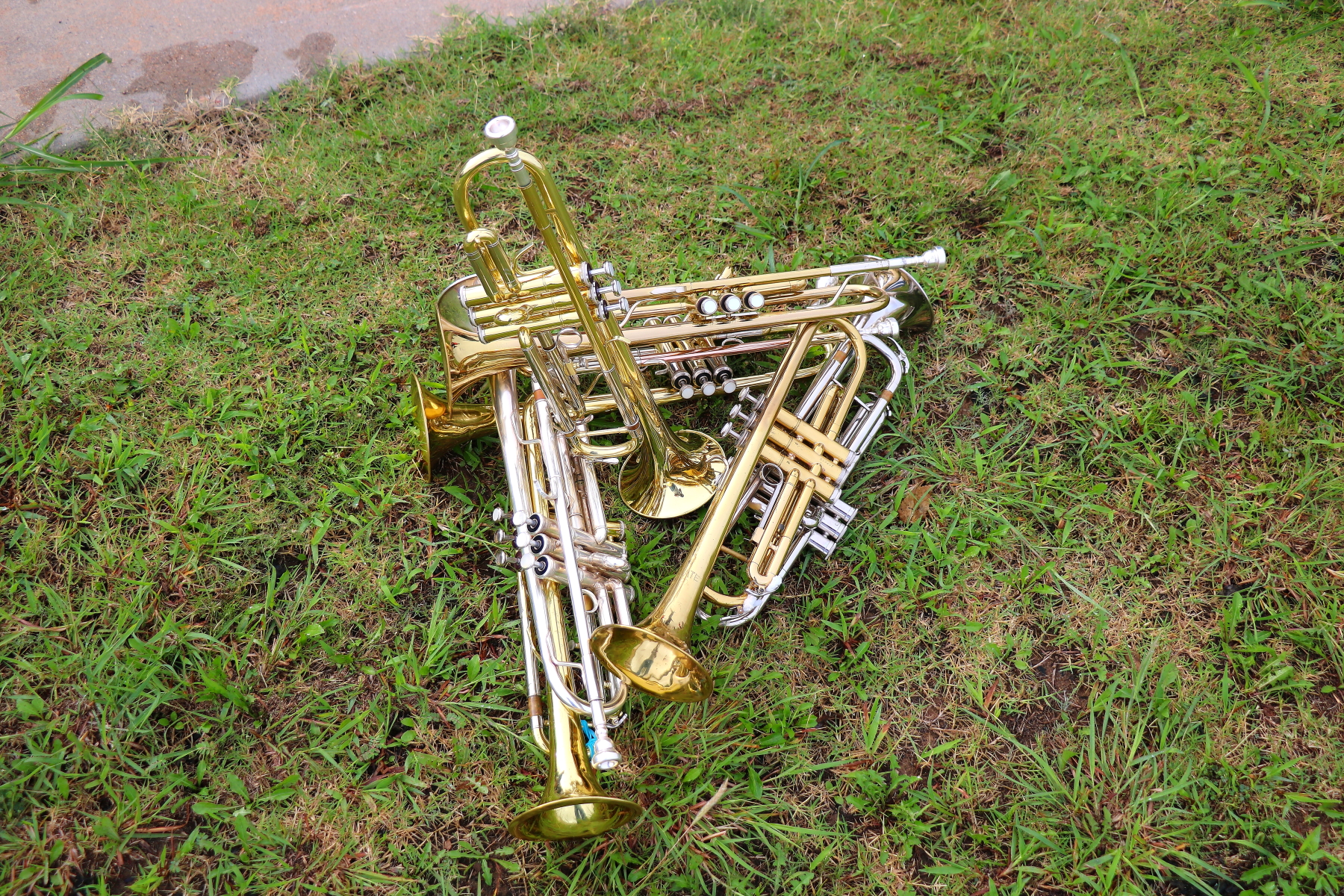 Had the pleasure of spending some time Tuesday morning with the Crusader Marching Band and their director Mr. Ben Olson out at Wellington High School. They are having BAND CAMP this week and I caught up with them on Crusader Circle (or whatever the road around the CRUSADER HOME is called) as they practiced their marching in preparation for the new school year which is knocking loudly now at everyone's door! 

A fine group of Wellington youth, talented and have a lot of fun doing what they do. Enjoy a few pics and look forward to numerous opportunities over the next 9 months to appreciate all the music they make together. GO BIG RED! 

CRUSADER BAND CAMP PICS 081517
2016-2017
Congratulations to Alexis Tracy and Marisa Black for their performances at the State Solo and Small Ensemble Festival in Chapman on Saturday. Alexis received a high II (excellent) rating for her saxophone solo, and Marisa earned a I (Superior) rating for her flute solo. In addition, Marisa earned a perfect score from her judge. To qualify for State, these musicians had to earn a Superior rating at the Regional Festival in Goddard on April 8th. Also participating in the Regional Festival and earning II ratings were Alex Hardin (trombone), KayCee Pennington (trumpet), and vocal soloists Ellie Buresh, Jordyn Young, Mason Lough.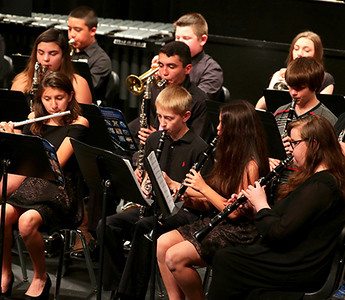 The WMS and WHS Bands held their SPRING CONCERTTuesday evening in the WHS Auditorium with a very nice sized crowd on hand. The evening opened with the 6th graders, followed by 7th/8th grades, the WHS Jazz Combo and the finale with the WHS Concert band. Below are pics from all the performances - great job KNIGHTS and CRUSADERS! 

SPRING BAND CONCERTS PICS 042517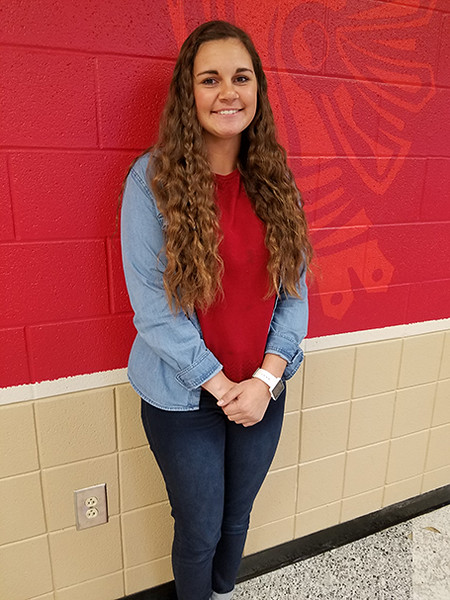 On Saturday, Jan. 7th, Marisa Black and Alex Hardin auditionedfor the All-State Honor Band that will rehearse and perform as a part of the Kansas Music Educators Association In-Service Workshop to be held Feb. 23rd to 25th in Wichita. Marisa was selected to be a part of this band, earning a 4th chair seating in the flute section out of the 12 others that were selected. Marisa competed against students from all over Kansas. To win a spot, and to place so high, in this Honor Band is a very difficult thing to do, and is a true honor. Alex didn't make the final cut but to audition for the All-State Honor Band is a remarkable achievement in and of itself. Congrats to Marisa and to Alex for their respective outcomes in band this year! Two more young folks at WHS that the entire community can be proud of!!
Quoting from the Kansas Music Educators Association website,"The KMEA All-State Bands perform each year at the annual In-Service Workshop at the Century II Convention Center in Wichita. Students are selected via a rigorous audition process that starts at the district level. Students who perform at the district level are then eligible to audition for selection to the All-State instrumental ensembles. Thus, the All-State student musicians are truly "the best of the best."" Congrats again to these fine Crusaders!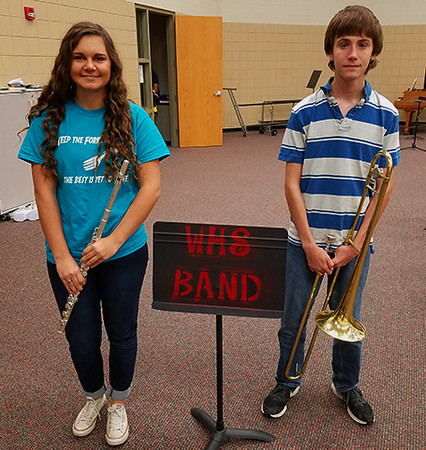 Two Crusader Band members won positions in the Kansas Music Educators Association South Central District Honor Band. They are Marisa Black and Alex Hardin. They both had to go through a very competitive and rigorous audition process that they had been preparing for since the beginning of the school year. The Honor Band rehearsed and presented a concert at Wichita East High School last Saturday. This band was composed of the very finest high school musicians in the south central part of Kansas By winning the audition process for the district band, they are qualified to audition for the State Honor Band to be held in February. This is a very high honor. Proud of these Crusaders!!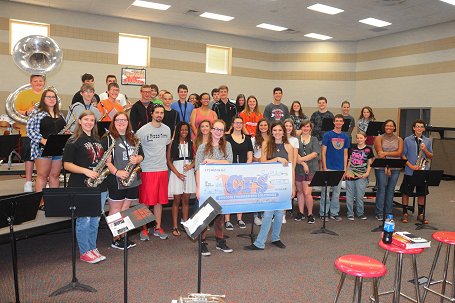 Terri Costin with Custom Fundraising Solutions out of Wichita, the outfit that sponsored the WHS Crusader Band "Mattress Sale" fundraiser this past Saturday out at WHS stopped by WHS early Thursday morning to present the group with their EARNINGS – through the support of the community and a lot of hard work themselves promoting the idea, the BAND was able to raise $5,000.00 which is awesome…in fact, the WHS Band raised more money than the National Average set by 65 other sites doing similar fundraisers across the country last Saturday as well. If you missed this one, save some coins between now and next Fall – sounds like there will be another go at it on September 9, 2017!! Great Job Crusaders!!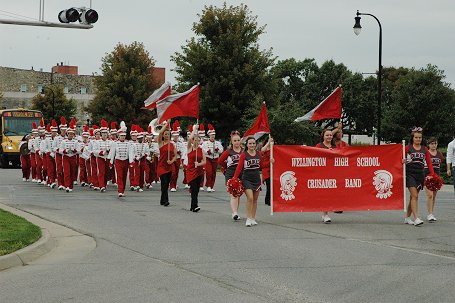 For the 2nd year in a row, under the direction of Mr. Ben Olson,the Crusader Band returned from the Kansas State Fair on Tuesday with a "1" rating! WHOOT-WHOOT!!!
CRUSADER BAND @ STATE FAIR PICS 091316
Courtesy Photos
ADDITIONALLY: Congratulations to the CRUSADER BAND who's MATTRESS SALE Fundraiser held this past weekend out at WHS netted them $5,000.00!!